In this is a promotional video I shot for Kenda Tires, international designer and manufacturer of automotive, motorsports and bicycle tires, in cooperation with Mahindra Automotive North America we collaborated with power sports retailer, Moto Zoo in St. George Utah to demonstrate the capability of Mahindra's Roxor when fitted with Kenda's new Klever R/T Tire.
I worked with Ken Albers, Director of Automotive OEM Sales/Senior Engineer for Kenda to produce this video along with Eric Anderson, Brand Guru for the Roxor off-road vehicle made by Mahindra to shoot and edit this video.
For this project I flew to Las Vegas and then drove out to St. George with Eric to meet up with Chad Hughes at Moto Zoo. Once we were all on site, we found this amazing little canyon to demo the tires. While it looks like it's out in the middle of nowhere, this is 3 minutes from Moto Zoo and right behind a neighborhood. A mountain bike trail descends through this canyon and stunning views photobomb every angle.
For this shoot I used my Sony a7sii on a gimbal for most of the B-Roll with the addition of a GoPro for the angles that the Sony wouldn't fit. I flew the drone angles with my Mavic 2 Pro, which is really great to travel with and cary around since it's so compact and quick to deploy. Since we were traveling light I shot the interviews with natural light with my Canon on sticks and the Sony hand-held.
The scenes with the red Roxor we shot here in Nevada up in the Virginia Range. We needed some mud and snow to contrast the dry desert terrain of southern Utah. These little Roxors are SOOOOOOOO FUNNNNN! If you want to know why these hold a special place in my heart, see the photo on the right…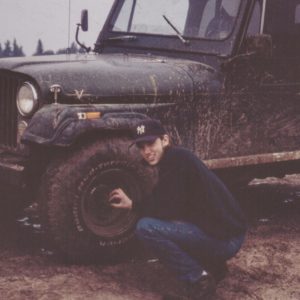 I edited the video in house and developed the logo animations and designed the titles myself as well. This video turned our really great! I'm supper happy and, most importantly, so is the client!
Learn More
Cheers,
-M