Most of the videos I produce are complete productions. As a one-man video production operation, I usually do all the roles, from working with the client on concept, shooting, editing, and graphics. I like it that way. If you're a marketing type, you might call it soup-to-nuts. That always makes me laugh.
But I do plenty of videography-only and editing-only jobs. And that is the case with my client, Behavior Advantage. This small business has used Board Certified Behavior Analysts and research-based strategies to develop software to aid teachers and school administrators in developing Behavior intervention plans for students of all ages.
Aaron Stabel, CEO of Behavior Advantage, approached me last summer needing help editing a series of "talking-head" videos that he intended to shoot himself into engaging, dynamic, and educational professional development sessions that they can present as a tool for their clients to implement the Behavior Advantage tools effectively.
The problem with talking head videos is that no matter how good your delivery is and how qualified and professional you are, nobody wants to watch a talking head talking after a few minutes. Moreover, watching someone talk isn't the best way to learn or understand new ideas and information. Aaron recognized this and was looking for a video editor who could augment his presentations with dynamic infographics and B-Roll.
The first series, one of which Aaron has just shared on YouTube, was shot by a friend of his who is a professional videographer in Truckee. Since then, I've set him up with a Sony FX3, lights, a nd microphones so that he can shoot these videos himself. Contact me if you want to set up a similar studio, and I'll send you a build list. It isn't cheap, but it's soooo worth it.
Video Editing
What I was able to do for Aaron and Behavior Advantage is create a simple, dynamic style using a mix of custom and plug-in-based motion graphics and titles, transitions, and generators in Final Cut Pro to add infographics, stock B-Roll, graphs, lists, and screencasts to their self-recorded video monologues.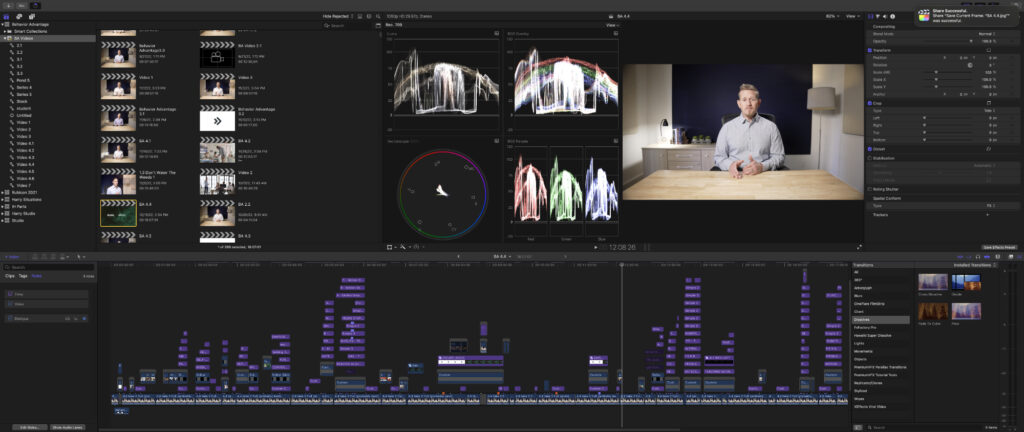 They are shooting their videos in 4k with a single camera angle, so I can scale the footage to add dynamic motion transition between sections of continuous video clips. I can also use this scaled bump-in as a cut to simulate a camera angle change. While 4k video is preferable in most situations, for this kind of web-based video series, that viewers will primarily be watching on a computer or mobile device, 1080p is just fine.
Motion Graphics
Apple's Final Cut Pro non-linear video editor works hand-in-hand with their Motion 5 Motion Graphics app. I can create custom transitions for Behavior Advantage in Motion and add that transition to their video clips with a click. The transition I created for them uses their brand colors in a horizontal color wipe that I use for going into and out of B-Roll.
I've also created the animated logo for Behavior Advantage that you see after the opening teaser. This graphic is one of many similar animated logos I've created for clients in Apple Motion that now live in the Generator tab in Final Cut Pro, so I can drop them into any project with a click. I've also created several other text graphics, text boxes, and other motion graphics that needed a custom touch for Behavior Advantage.
There are also a ton of great motion graphics available for Final Cut that great Motion Graphics designers have created. I use these to build the Bullet lists and other motion graphics needed in these projects. The versatility and customization possible with Final Cut Pro and Motion regarding transition, title, and generator templates is unavailable in Adobe Premiere or DaVinci Resolve.

Contact me today if you want to create dynamic videos with motion graphics, infographics, B-Roll, and interviews.